IF SOMEONE IS IN IMMEDIATE DANGER, CALL 911.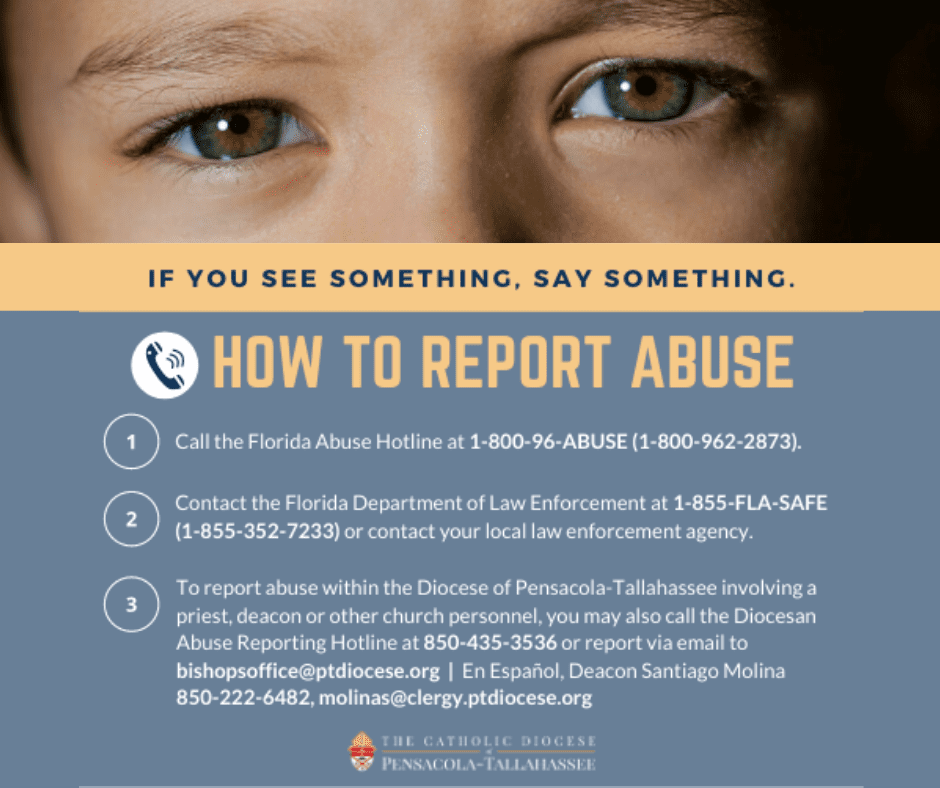 When to Report
The Diocese of Pensacola-Tallahassee encourages anyone aware of abuse by a priest, deacon or church personnel to make a report immediately. Your report enables us to better ensure the safety of all and to help individuals in the healing process. All information supplied is maintained in strictest confidence, except where disclosure is required by law. According to Florida law, all are considered "mandatory reporters" of abuse and must report the abuse of a child or a vulnerable adult.


To report abuse online to the Florida Department of Children and Families, click here.
To report sexual misconduct by Church Personnel via e-submission, click here.
To report abuse or sexual misconduct involving a bishop, click here.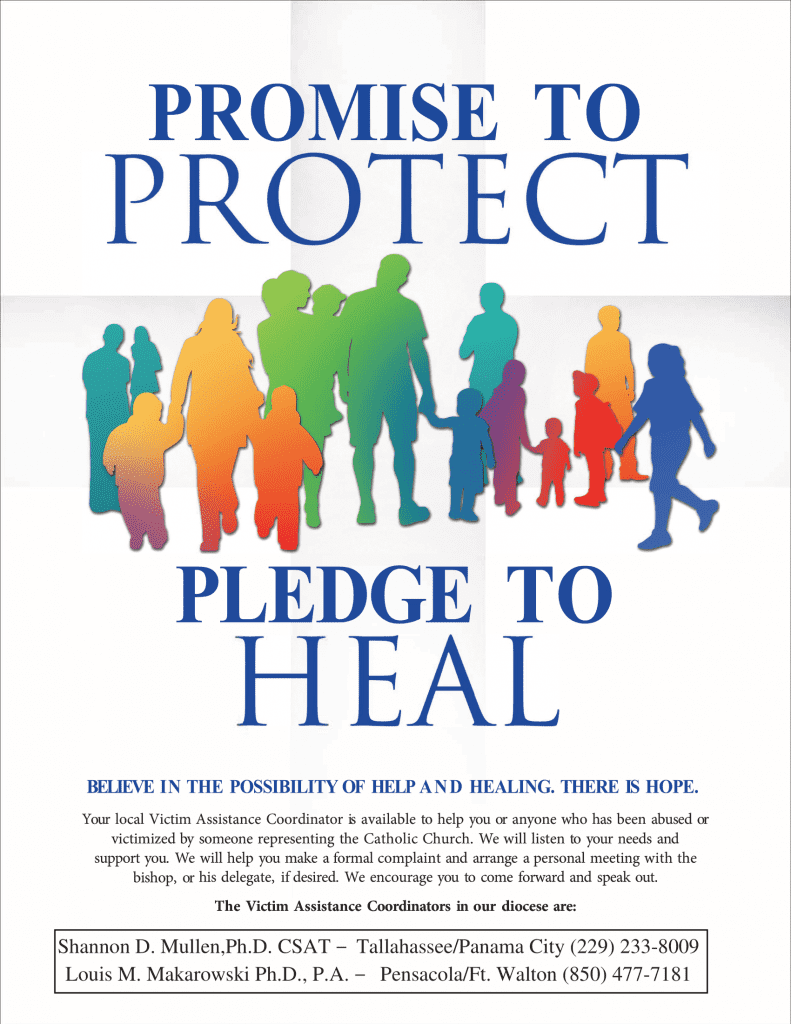 Victim Assistance Coordinator Information
Our diocese has appointed Victim Assistance Coordinators.
These experienced and trained counselors are available to help persons who have been abused by clergy or church personnel.
Louis M. Makarowski, Ph.D., P.A.
Pensacola/Ft. Walton area
☎ (850) 477-7181
Shannon D. Mullen, Ph.D. CSAT
Tallahassee/Panama City area
☎ (229) 233-8009
Deacon Santiago Molina
En Español
☎ (850) 222-6482
Diocesan Victim Assistance Hotline
☎ (850) 435-3536
Victims Rights
Victims Rights En Español
Prayer for Healing Victims of Abuse
God of endless love, ever caring, ever strong, always present, always just: You gave your only Son to save us by his blood on the cross. Gentle Jesus, shepherd of peace, join to your own suffering the pain of all who have been hurt in body, mind, and spirit by those who betrayed the trust placed in them. Hear the cries of our brothers and sisters who have been gravely harmed, and the cries of those who love them. Soothe their restless hearts with hope, steady their shaken spirits with faith. Grant them justice for their cause, enlightened by your truth. Holy Spirit, comforter of hearts, heal your people's wounds and transform brokenness into wholeness. Grant us the courage and wisdom, humility and grace, to act with justice. Breathe wisdom into our prayers and labors. Grant that all harmed by abuse may find peace in justice. We ask this through Christ, our Lord. Amen.
Prayer from United States Conference of Catholic Bishops