Leading our littlest disciples to Christ!
---
Adventure Days
ADVENTURE DAYS is our mini-VBS-style Catholic program for Kindergarten – 5th graders! Adventure with us every second & fourth Sunday of the month after the 9:30am Mass until 12:00pm in the PLC from September through April. Contact explorers@saintmary.life with any questions!
REGISTRATION FOR 2022-2023 SCHOOL YEAR WILL OPEN SUMMER 2022
VBS 2022
Vacation Bible School is back! Check out this link for more information!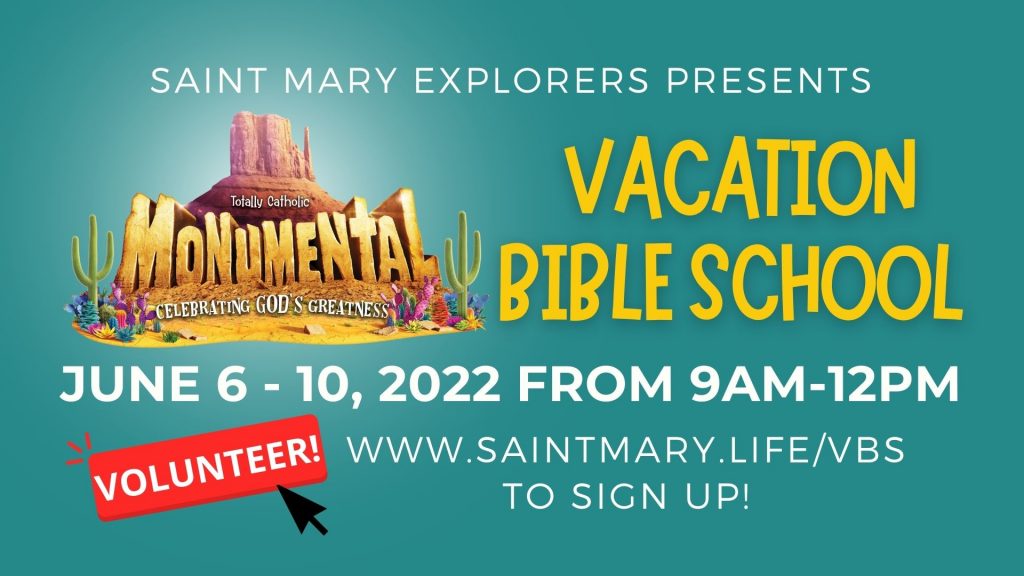 The Level I Atrium
Catechesis of the Good Shepherd, also known as "The Atrium," is a Montessori-based program that gives the child a space to grow and nurture their relationship with God.
Coming soon for 3- 5 year old children at Saint Mary's!
For more information, please read through the CGSUSA.org website.

Childcare
Available for 6mo—4yr olds in the Fr. Sherman Room during the 9:30am and 11:30am Sunday Masses.

Children's Liturgy of the Word
Children's Liturgy of the Word at 9:30am Mass is postponed until further notice.
Sons of Treasure
Religious education and sacramental preparation for children with disabilities. For more information contact Jenna Beaty by calling the parish office 850.243.3742