Join us in 3 Conversations!
---
Matthew 28: 19-20
"Go, therefore, and make disciples of all nations, baptizing them in the name of the Father, and of the Son, and of the holy Spirit, teaching them to observe all that I have commanded you. And behold, I am with you always, until the end of the age."
You and I, as followers, are commissioned by Jesus in a fantastic way. A commission is an instruction or command. Jesus' instruction to us is to make disciples for him; we are to help other people become followers of Jesus. At Saint Mary we seek to be a place where it becomes impossible not to share Jesus with the World. So, to fulfill Christ's great commission, clergy, staff, and parishioners must be overflowing with the love that comes from experiencing Jesus personally through the Word, Mass, sacraments, prayer, evangelizing, discipling, community, and service. We have developed three simple conversations to help do just that.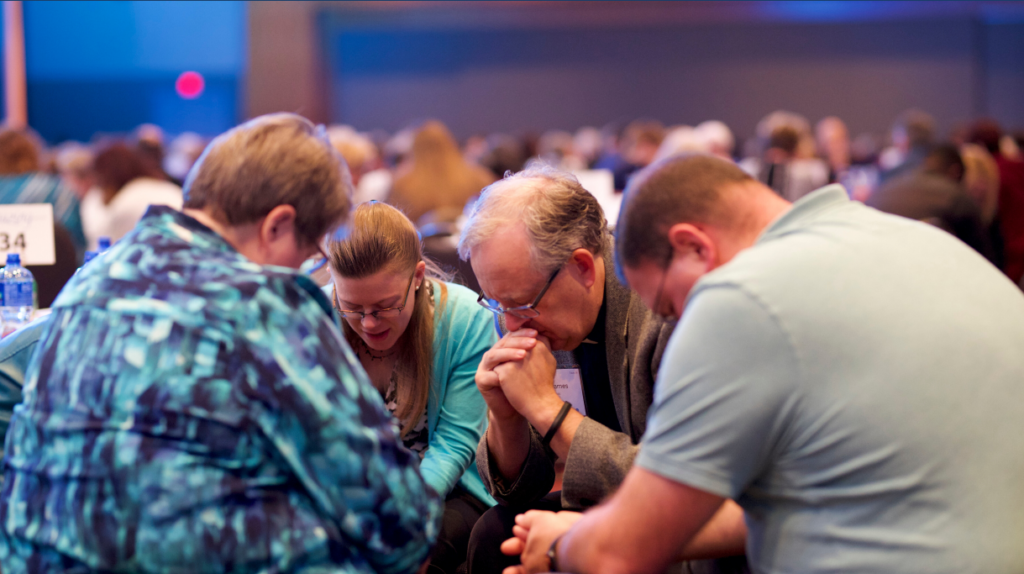 You do not have to be an expert on Christianity to have these conversations. You only need to be open to both trust and listen to the Holy Spirit. We want you to have these conversations with others. The first step is to experience these 3 Conversations yourself by participating in a 3 Conversations Group. Groups meet three times for three conversations. There's no need to prepare, just your willingness to attend and participate.
---
Making followers of Jesus revolves around three conversations!
The first conversation is simply intentionally praying with people. Listening to where our brothers and sisters are needing God's love and/or guidance to pour into their lives.
The second conversation is sharing your life journey, and how you have experienced God along the way. We share these moments to give our witness on how Jesus has been there for us, our unwavering rock. We see that his love for us is unconditional, no matter where we are in our journey.
The third conversation is sharing how we might see our life like a ministry. Ministry means service. Do we serve God by leading other people to him and his Son Jesus? If not, how might we find ways to fulfill his commision?
---
To review our 3 Conversations homilies you can visit our Homilies webpage and where you can access our homily blog or podcast!
---
3 Conversations Prompts
For help to get your conversations going see prompts below.
Intentional prayer:

Ask where do you struggle with prayer…(with who, for, what, etc)
Share what you need prayer for first: be personal, vulnerable, and real.
Ask each person how we can pray for them.
Leaders pray over each person's intentions.

Share your story:

Tell us a little bit about how you came to know Jesus personally.
If you're stuck on (a) ask something like: Were there times where you thought God was active in your life, and can you tell us a little about that?
Share where you are now in your journey.
Where do you hope to go on your journey?

How is your life a ministry:

Do you struggle seeing your life as a ministry?
Share how what you do in your life brings others close to Christ or how it could bring others close to Christ.
Tell us a little bit about how you answered the call to serve Christ where you are. This could be any role in life, if doing it in such a way that gives witness to being a Christian.