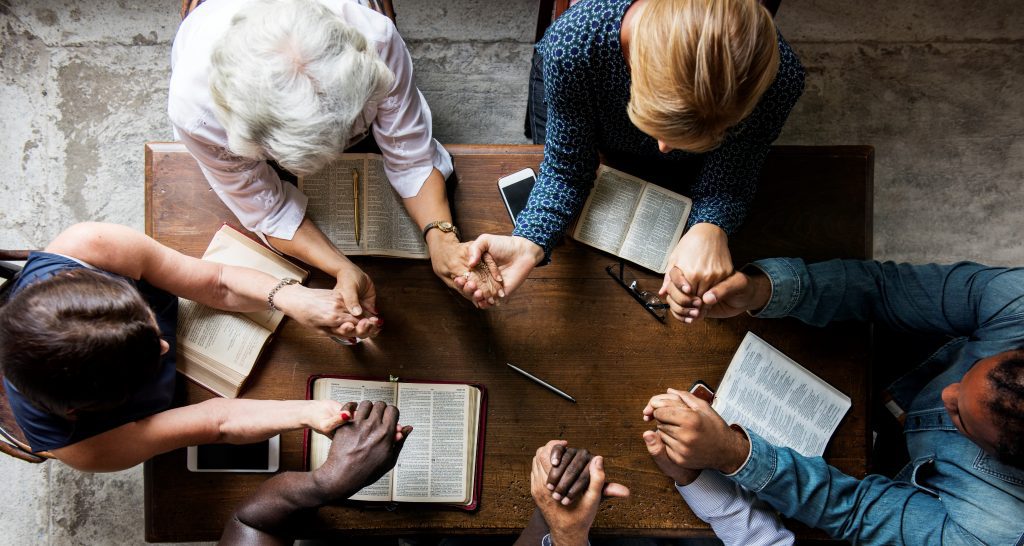 We are blessed to have a council at Saint Mary Catholic Church!

As an affiliate of the West Central Deanery Council, Pensacola-Tallahassee Diocesan Council, Florida Council and National Council of Catholic Women, we share the same mission statement,
"to act through its membership to support, empower and educate all Catholic women in spirituality, service and leadership through programs that respond with Gospel values to the needs of the Church and society in the modern world."
Our "council year" runs September through May; we come together on these First Fridays to worship at morning Mass, enjoy fellowship, a program and do a little business.
Information can be found by calling the parish office, (850) 243-3742
---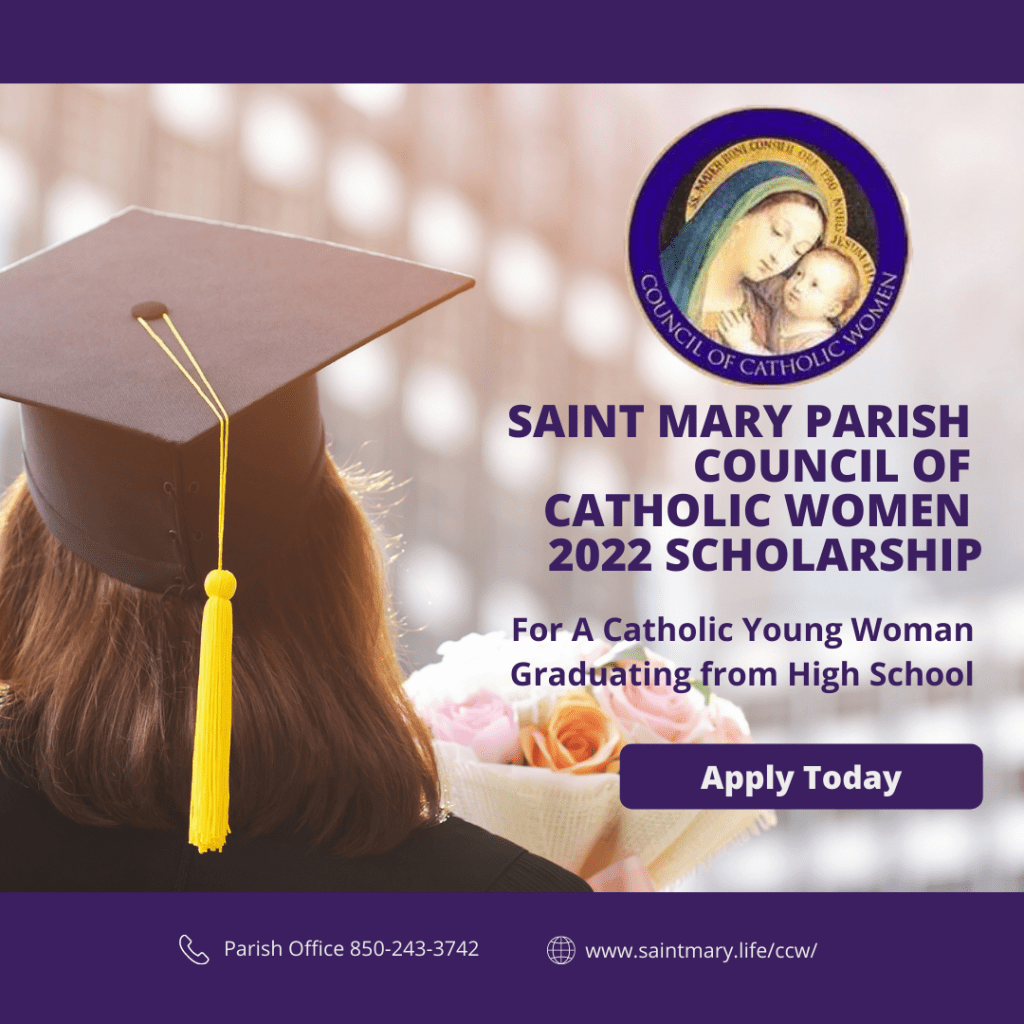 Saint Mary Parish CCW 2022 Scholarship
This annual $1,000.00 Academic Scholarship is available to a young, Catholic Woman graduating from High School who is a registered member of Saint Mary Catholic Church in pursuit of education or training beyond high school in an accredited training, licensing, certification program, or institute of higher education.
Deadline for the 2022 CCW Scholarship is Thursday, April 7, 2022
---
CURRENT EVENTS: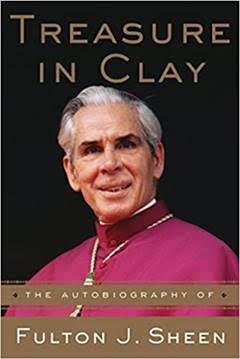 Next selection for the Spiritual Book Club is Treasure in Clay: The Autobiography of Fulton J. Sheen. Sheen was a teacher, preacher and beloved pastor of American Catholicism. This 10 week session will begin Tuesday, April 26 in the PLC. Meetings are 6:00 p.m. consecutive Tuesdays. Bring your book UNREAD to the first meeting. Anyone interested is welcome! Participants must purchase their own book. Books are available on Amazon (prices vary). For more info, contact Mary 850.420.3373.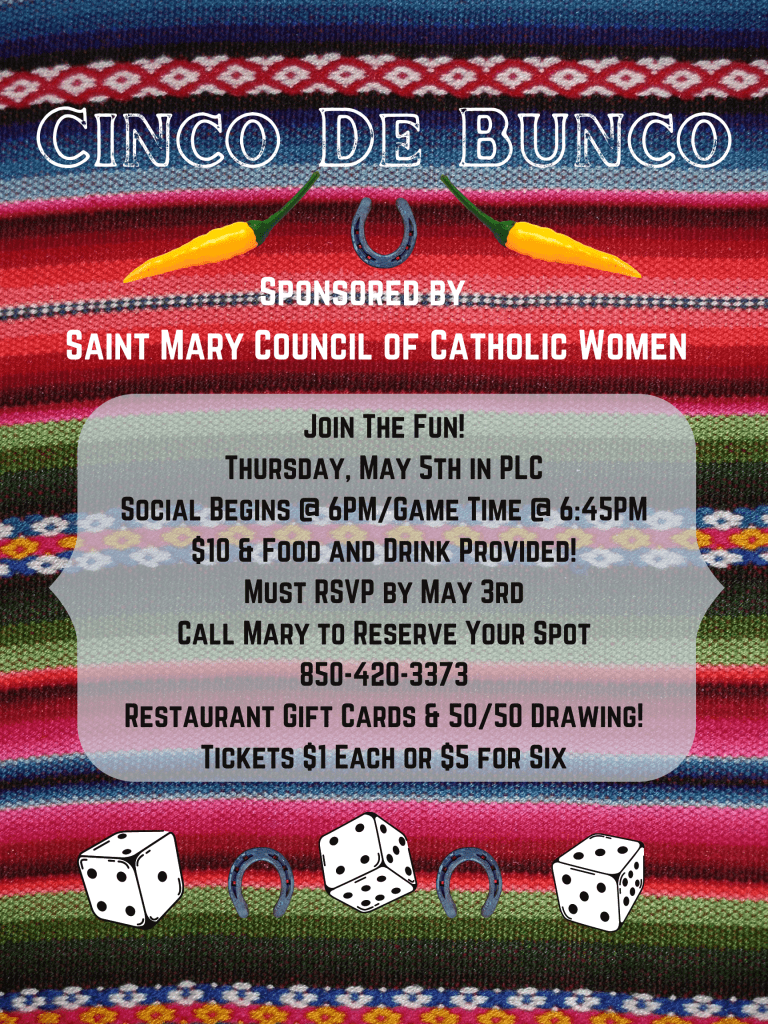 ---
Ongoing activities we sponsor:
Weekly Church Cleaning (sacred vessels/holy water fonts)
Spiritual Book Club (growing in faith, knowledge and understanding)
Little Dresses (repurposing pillow cases into dresses)
Hope in Your Hands (crafting)
Comfort Angels (knitting/crocheting prayer shawls)
Bunco Nights (fun, fellowship and FUNdraising–proceeds benefit ministries)
Adopt-A-Seminarian (support of seminarians)
AND MUCH MORE…
Women participate beyond our Council in leadership roles and by attending:
WC Deanery CCW Events: Advent & Lenten Days of Reflection, Fall &
Spring Gatherings
PT Diocesan CCW Doings: Pencil Points E-Newsletter, Annual PTDCCW
Convention, Burse Club www.ptdccw.org
Florida CCW Involvement: Catholic Days at the Capitol, Hugs for the
Homeless Annual Campaign, Biennial FCCW Conference www.flaccw.org
National CCW Endeavors: NCCW Annual Convention, support of Partner
Programs such as Catholic Relief Services' Water for Life Program
www.nccw.org

WE Welcome YOU!

For more information, please call the parish office at
850-243-3742