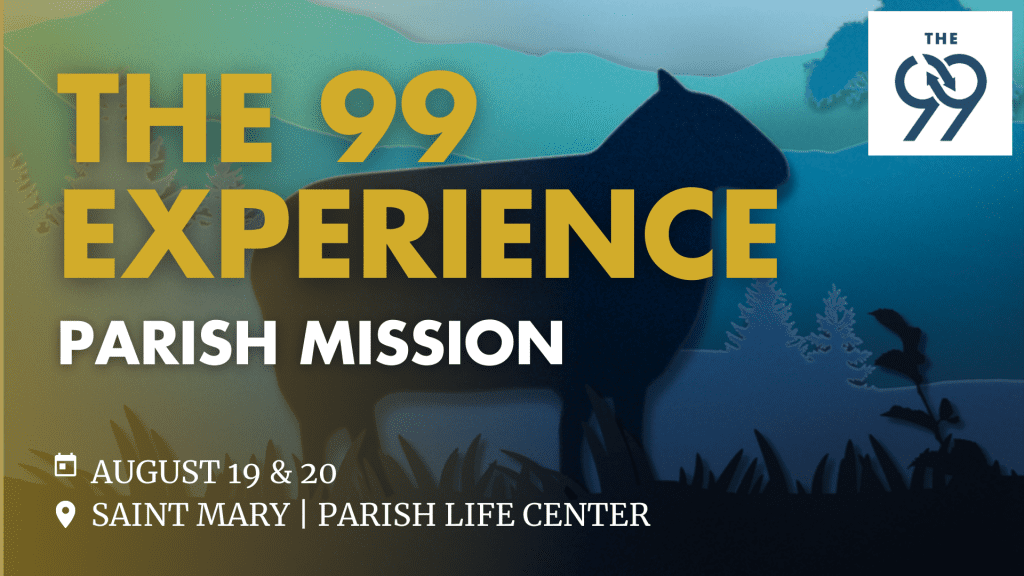 We would like to invite all of you to The 99 Experience, an event that will be a springboard for our entire parish to deepen our faith as we grow in identity, purpose, and community.
At this powerful mission event, our parish will come together to learn:
The answer to the brokenness we experience in our lives
How to acknowledge and desire God's love
How to live a life in community lead by the Holy Spirit
Are you the lost sheep or one of the flock?
Whichever you are, the good Shepherd is calling you. Join us to rediscover the beauty of the Gospel, embrace the love and mercy of God, and accept Christ's invitation to a deep personal relationship with him in this unique mission that will transform your faith and change your life.
The 99 Experience is for everyone, even those who are currently not active in their faith and would need you to invite them. Prayerfully consider who you know who would benefit from attending The 99 Experience and invite them!
Be the one that answers the call.
All are invited, no matter where you are in your life. Whether you are lost, searching, or just looking to grow in your faith, there is something in The 99 Experience for everyone. There is no cost to attend, we just ask that you register by August 15. This program is open to adults and high school students.
Schedule
Friday, August 19 6:00pm – 9:00pm
Saturday, August 20 9:00am – 3:00pm
*Full schedule coming soon*
Childcare
Childcare is available for both days of this event. If you require childcare to attend, please select the childcare option on the registration form.