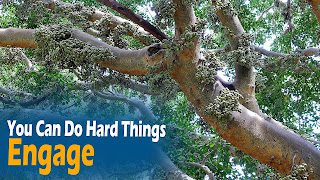 You Can Do Hard Things Wk 3: Engage
Sunday 31st Week in Ordinary Time: You Can Do Hard Things Week 3: Engage
Today's gospel tells the story of a man who is transformed when he encounters and engages Jesus.
The gospel writer Luke tells us that Zacchaeus is a wealthy tax collector, "short in stature". We could also say that he is short in other ways. As a tax collector, he would have been despised by the people of Jericho. There was no one who people in Jesus' day hated more than a tax collector. So, he would have been small in the eyes of his neighbors. What a lonely feeling that must have been for him.
Besides being excluded from friendship with others, he was excluded from worship in the Temple and synagogue. As a public sinner, he would not have been welcome. That inability to join in the worship of God must have been a heavy burden on his conscience. So along with the burden of loneliness, he would have been carrying a lot of shame and guilt.
Zaccheaus must also have been short on meaning and purpose in his life. Luke tells us he was the chief tax collector, meaning he had status and power. He could buy whatever he wanted. But all this was not able to satisfy him. Something was still missing.
He'd thought of himself as successful. But, at the height of his career, it dawned on him his life wasn't working. There was a void at the core. There was no joy, and intuitively he understood there would be no joy as long as he continued on the same path. Unlike us sometimes, Zacchaeus knew he had to change. Change is a word we love to hate. We especially find that word difficult if someone is calling us to change. Zaccheaus knew something needed to change.
So, when Zaccheaus heard Jesus was passing through town, he was curious and decided to seek him. He abandoned all dignity and climbed up a tree, unbefitting a man of his office. He does so to make sure he'd see this holy man who just might be able to tell him how to find the joy missing in his life.
He just wants to see him. And what does he discover? Jesus already knows him. Not only that, Jesus wants to come into his home to share a meal with him – something no other righteous person would ever dare to do.
Jesus looked up into his eyes and said, "Let me come to your house today." Jesus came and Zacchaeus' life was forever changed. He found the joy for which he had so longed.
The story has a happy ending, and it's important for us to understand why and how that happened. The turning point came before Jesus offered his invitation. It came when Zacchaeus recognized his need to change and decided to do something about it. For every one of us, there are parts of life that don't work, parts that are lifeless and yield no joy. And in many cases that hasn't changed in years.
The reason is, we keep looking for joy where it isn't to be found. If, in those failed parts of our lives, we can speak the hard truth Zacchaeus learned how to speak, if we can see something is wrong and must change, at that moment we'll hear the words Jesus has been speaking to us all along, words we've been drowning out with our self-deceptive assurances that everything's just fine. We'll hear him say, "I want to come into your house this day. I want to live at the center of your life." And then, with our "yes" to him, the healing, the transformation, and the joy will begin.
There is a pattern here of how the Lord relates to each one of us. He sees us before we see him. He calls out to us before we call upon him. What matters for us is that we notice the Lord seeing us and are attentive to the Lord calling us. If we respond to the Lord's seeing and calling, as Zacchaeus did, we too will experience the Lord's healing and life-giving presence.
Jesus wants to engage with you. It can be a life-changing positive experience. When we encounter Jesus, things change. Change is hard. However, YOU can do hard things.
What happens next is critical. Zaccheaus responds to Jesus' love with a generous change of heart. He promises to give half his possessions to the poor and to pay back four-fold anyone he's cheated. Zaccheaus experiences Jesus' great love and responds by showing great love to others in return.
Are you here today because you are like Zaccheaus, curious, wondering what Jesus has to offer you. Maybe you have not been to church in a while and simply decided to come today. Or maybe you are here every week and dedicated to experiencing and engaging Christ here during Mass. We have the opportunity for that personal encounter, that personal engagement, during every Mass.
We don't have to go to Jericho to meet Jesus. We don't have to climb a sycamore tree to see him. He is with us here, present in Holy Communion, in the Eucharist, in that little white host. And he invites you to this altar, this table, this meal.
Jesus calls to you and tells you he is coming to eat with you. You are known by him and loved by him. We will encounter his love in a marvelous way in the Eucharist. In that little white host, the risen Jesus gives himself totally to you. How big is God? So big he makes himself that small so you can encounter him and engage him right here today, in that host. Host is a powerful word. Its Latin root, 'hostia', means a sacrificial victim. Jesus is that sacrificial victim, who has given his life for you, risen from the dead, and who with the Holy Spirit creates out of that small piece of bread, his body.
Often people ask me: "When do the bread and wine become the body and blood of Christ?" That happens when the priest repeats the words of Jesus, the same words Jesus said during the last meal he had with his apostles before his crucifixion. To paraphrase in brief, he takes bread, blesses it, breaks it, and he says "take and eat; this is my body given up for you. Do this in memory of me." Then, he took a chalice filled with wine saying, "Take and drink; this is my blood poured out for you for the forgiveness of sins. Do this in memory of me." The bread and the wine have now become the body and blood of Christ. That's what Jesus told us, and that is what he told us to do.
If we are feeling like Zaccheaus, short of stature because of our sins, or because people have hurt us, the love of Jesus can lift us up. If we are carrying a heavy burden of guilt and shame, the love of Jesus can give us forgiveness and peace. If our hearts are overwhelmed with bitterness, despair, and doubt, then the love of Jesus can fill us with faith, hope, and love. It is all there for us in that little white host which you will receive.
If that love of Jesus is going to truly transform us, then we must respond just as Zaccheaus did. We must take the love we have received from him and share it with others. We must make amends for harm we may have caused. We must be generous with others as God has been generous with us. We must be merciful and forgiving to others, just as Jesus has been to us.
If you have not yet encountered the love of Jesus Christ in your life, welcome him into your heart today. Don't let anyone convince you that you are not worthy of his love. And if you have already been touched by Jesus' love for you, respond generously by sharing that love with someone.
I encourage you to be like Zacchaeus during Holy Communion time today. Be open. Be curious when you come up for Holy Communion or for a blessing during communion today. Ask the Lord how is he engaging you and what does he want you to do. He will be here, and he already knows you.