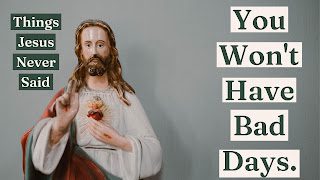 Things Jesus Never Said Week 4
Things Jesus didn't say Week 4: You won't have bad days
Fourth Sunday of Easter (Good Shepherd) (Mother's Day)
www.saintmary.life/homilyguide
In the past today has been known as Good Shepherd Sunday, mainly because of the readings. This is the fourth and final week of our message series Things Jesus Didn't Say.
The idea of God being the Good Shepherd really does fit with the message today. For the last four weeks, we have looked at things like: this is the end; you get what you deserve; and stay in your comfort zone. And Jesus didn't say any of those things. Today we look at the idea that Jesus never said you won't have bad days.
During Jesus' earthly ministry, he was preparing his disciples for the mission. The mission was sharing the message of God's love with the world. But in doing so Jesus never said, if you keep trusting me, you will never have any bad days. He never said, all you want in life will be yours if you just follow me. He never said, keep believing in me and all your pain and problems will disappear. I wish he had said these things. I wish following Jesus and trusting God would mean that we would never have any bad days, but those are things Jesus never said.
As we look at things Jesus never said we can better understand what He did say. When we look at what Jesus said in very specific situations during his life it helps us understand how we need to live our lives. When Jesus was getting ready to leave this world, he never promised his followers that life would be easy and trouble free, he did say, truly I tell you, you will weep and mourn while the world rejoices. You will grieve, but your grief will turn to joy. And He said, in this world you will have trouble.
The truth is Jesus told us that living the Christian life isn't always easy. In fact, he told us to take up our cross and follow him. That implies that life will be a struggle. So should we be that surprised when it is?
Jesus did say, you will weep and mourn. He did say, you will have trouble, and the Bible is clear that trials and hardships will be part of our lives. In the OT, the prophet Isaiah said, when you pass through the waters, I will be with you; and when you pass through the rivers, they will not sweep over you. When you walk through the fire, you will not be burned; the flames will not set you ablaze. God doesn't say IF these problems come He will help us, but WHEN they come.
In the New Testament, the Apostle Paul said it this way, we are hard pressed on every side, but not crushed; perplexed, but not in despair; persecuted, but not abandoned; struck down, but not destroyed.
These are serious hardships we are facing, and during difficult times we often think that somehow God has left us, but instead of thinking that God has abandoned us, or is angry with us, or is just not able to do anything to change our situation, what if we looked for some purpose behind the pain? If Jesus told us there will be bad days, then maybe there is something we can learn from them. What can God teach us as we walk through this challenging season of life?
One clear thing that pain and problems can show us is how strong our faith really is. Problems can Prove Our Faith. When everything is going well, and we have all we need, and the future is secure, and all our days are good, it is easy to think we are trusting God in every way. But when things get difficult, if our trust still isn't in God, then maybe it wasn't in God all along.
It is important to have deep roots to our faith so that when we do go through difficult times we won't be crushed, swept away, or defeated. The more we can trust Jesus in the small problems we face, the more we can trust him when the really bad days come. The stronger our roots are, the steadier and more peaceful we will be when the storms come – and storms do come into all our lives. Problems really can be moments to prove to ourselves just how strong our faith is.
In the first reading today we read that Paul and Barnabas went to Antioch. In those days there were two cities named Antioch that were very near each other. This Antioch was in a mountainous area near the sea. Their climb to the top would not have been easy. And the type of welcome they received there from Paul's kins-people was not very kind either. After they had preached the Gospel of Jesus, many Gentiles were excited to hear the news and wanted to join them. Because of this, Paul and Barnabas were persecuted and kicked out of town by the religious leaders, who were of the Jewish faith. Had the teaching of Jesus been, 'preaching the Gospel will be easy and everyone will want to hear the Good News' then Paul and Barnabas may have been discouraged. Instead of shrinking in the moment, they lived into their faith proving it was stronger maybe even more than they knew themselves.
Problems not only prove our faith, they can also prepare us for our purpose. What if the problem we are going through today is what will develop us into the person God wants us to be tomorrow? What if the pain we are going through today is what is necessary to make us stronger, more resilient, and teach us new skills so that we can be more of the person God wants us to be? There are some things that only hardship and struggle can teach us.
Looking back at Paul and Barnabas, they had already been treated poorly. They were not only not surprised by this, they were prepared and ready to receive the poor treatment that came to them. Rather than feeling down on themselves or hurt by the rejection of their own people, our passage says, [they] were filled with joy and the Holy Spirit.
What makes us stronger isn't comfort and ease but struggle and pain, all athletes will tell you that. And what helps us deal with rejection isn't always praise, as much as we need praise, but what helps us deal with rejection is rejection and learning how to fail. None of us like it, and it doesn't mean that we should go looking for heartache and struggles, but they can strengthen us.
In many ways, everything that we go through in life, good and bad, helps prepare us for the future. So the bad days are just as important and have just as much to teach us as the good days, so don't ignore the bad days, don't hide from them, or run from them, learn from them. Endure them. Saint Paul said, we know that suffering produces perseverance; perseverance, character; and character, hope. Pain can lead to positive things.
And Saint James says, consider it pure joy, my brothers and sisters, whenever you face trials of many kinds, because you know that the testing of your faith produces perseverance. Let perseverance finish its work so that you may be mature and complete, not lacking anything.
There are times we cannot be the person we want to be, or God wants us to be, or have the kind of faith we want to have without going through challenging and difficult days. Our purpose in life may never be found without some pain, so the pain you are experiencing today, the struggles, hardships, and disappointments might all be the road that will take you where God wants you to be.
Nope. Jesus never said you won't have bad days. But, as our Good Shepherd, he did say he will always be with you.