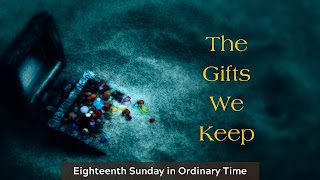 The only gifts we get to keep forever are the gifts we give away: 18th Sunday
18th Sunday: The only gifts we get to keep forever are the gifts we give away.
We've all seen the pirate movies with jewels and gold piled high in a cave. Inevitably, there are skeletons strewn about with pearls and gems clutched in their bony hands. Despite them having found their heart's desire, when they died, they could not take that treasure with them.
"Where your treasure is, there your heart will be." And a lot of folks put their hearts in foolish places. Do we even know where we've invested our hearts? That's what Jesus is asking us in this gospel. It's a crucial question, because our happiness, and our very life, here and in eternity, depend on investing our hearts in the right place.
Look at the man in the Gospel. His favorite words were "mine" and "more." He put his faith and all his hopes in piling up more and more for himself. It never occurred to him that it was all just on loan and would slip away before he knew it. He never saw that the best part of having something is being able to share it and enjoy it with others. Too late he discovered that the real meaning of hell is sitting alone and looking back at a wasted life that left him with empty hands and an empty heart for all eternity.
In a world of ceaseless change, concrete things are comforting. We can see them, touch them, get a deed to them, put them in a safe. They give us the illusion of having something we can count on. We go after more and more and find that our identity is starting to depend on more. We also begin to identify with the material things we have to the point where those things give us our sense of self-worth. That's not the life God wants for us.
God gave us life and talent and all the gifts of this wonderful world – to be enjoyed. But we only get the joy if we share the gifts – just as God shares with us. Gifts given and shared are the only treasures we can carry into eternity, the only sure investments we can ever make. That tells us where we must begin, with naming our gifts.
Every one of us have many gifts of mind and heart: Perhaps the gift to make music, to comfort, to excite; the gift to imagine, to create, to organize, and to make things happen; the gift to laugh, to feed, to heal, to build, to make new; the gift to be strong, to carry heavy things, to endure; the gift to see, to be wise, to speak out, to be silent; and always, the gift to love. And yes, the gift of our money. So many good gifts: All needed by others, and all needing to be given.
Much of life is a mystery. But for the question, "How can I find peace in this unpredictable world?" Jesus gave the answer: "What you have received as a gift, give as a gift."
So name your gifts, and give thanks for them. Share them without counting. A glad heart will be yours, and eternity will take care of itself.
Here is the irony of what Jesus, and we, are talking about today. The only gifts we get to keep forever are the gifts we give away. Is that strange, and isn't that true? Jesus always speaks the truth. The only gifts we get to keep forever are the gifts we give away.