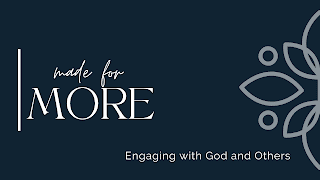 Made for More Wk 3: Engage with God & Others
Welcome to the third week of our homily, series Made for More! Tomorrow (Monday) is All Saints Day. Our Gospel tells us today to love God and love our neighbor. Let's explore what saints, God, neighbors, and Made for More have to do with each other.
In order to love God,, and have a relationship with God, we must engage God through prayer which we talked about last week. Two weeks ago we spoke about engaging with others as we explored how to serve with love. Today we are speaking about another beautiful way to engage with both God and others at the same time.
Some of the saints are great examples of regular people who engaged with God and with other people. Engaging with both God and other people gave them hope and strength on their journey through life because other people gave many saints support to practice Christian living when living such a life became difficult. Other people helped them to have the strength to stay the course. It gave them staying power. You are Made for More than trying to live your spiritual journey alone.
For YOUR faith journey and spiritual growth to have staying power, you need to be known and loved and supported by others who are also trying to live out their faith. Without Christ-centered friendships, our walk of faith will most certainly be a less steady one, and we're far more likely to fall and fail. You are Made for More than living alone and practicing your faith alone.
When we have friendships, in which Christ is a central part, we connect with him in a way we're far less likely to on our own. That's because your faith is personal, but it is not private. Your faith is personal, not private. We grow in faith through relationships, so we need friends in faith because growing in faith is a relational experience. Growing in our spiritual life involves relating to others AND to God.
The people in our lives pull us in their direction. They influence us either for the good or the bad. Peer pressure is not just a reality for middle and high school students. Peer pressure isn't a teenager thing; It's a people thing. Show me your friends and I'll show you your future.
Your friends will influence, if not determine the quality and direction of your life. If you want to grow as a follower of Jesus Christ, you need people who walk with you in your walk with the Lord.
Think about it: Our great grandparents lived in a Christian culture. We don't. If the only contact you have with other Christians is once a week, or a few times a month, here at church, and the rest of your time you are immersed in a completely secularized, post-Christian culture, that is often hostile to your faith, you are more or less trying to live your faith all alone, and on your own and that is a very difficult thing to do.
It's nice to belong to a big church, like Saint Mary and to be a part of something significant. But it's also easy to get lost in the crowd. You need to be loved and supported. We need friends in faith.
Our strategy for helping you to develop friends in faith is small groups. One of the basic steps in spiritual growth is getting into a group. As a matter of fact, one of the best steps, by far, to grow spiritually is by participating in a small group.
You may be wondering: What are these groups, and when do they meet?
A small group is just that. It is a small group of six to ten people who meet on a regular basis in people's homes, once a week, or twice a month for 60-90 minutes. We plan to start a new round of small groups for Advent. It is a great way to spiritually prepare yourself for Christmas. And to get started is only a 4 week, once per week, commitment. For Advent we will provide a brief video for you to watch each week. We also provide discussion questions. Then you close in prayer, and that is about it. You don't have to do or say anything that you're not comfortable with.
It is so incredibly simple and yet these small groups will help to form connections and relationships that are incredibly helpful to growing spiritually as a follower of Jesus Christ.
We all come at faith from different perspectives, backgrounds, and experiences. My relationship with God is different from your relationship with God. All of us have some unique perspective we can share. Whether you grew up in church, and have taken your faith seriously for years, or are just getting into it, you have something to offer others about faith.
And as you contribute your insights and questions and others contribute theirs, mutual growth can happen. We can influence one another into a deeper relationship with Christ.
Small groups ARE NOT adult education. They're about life change for the better. The conversations that take place, and the relationships that are formed can change people's minds, they can change people's hearts, and that can change people's lives. That can change your life. Old problems can be solved, new directions can be taken, and fresh habits can be formed.
Don't say you're too busy. Everybody's busy. If you're too busy, you should definitely give a group a try. If you're stressed out, you should definitely give a group a try. If your home life is overwhelming, if your kids are demanding, if your job is stressful, you should definitely give a group a try. And if your life is perfect, you should definitely give a group a try, because all of us want to learn from you.
Small groups are an opportunity to share the wins and losses, the troubles and challenges you're experiencing right now.
When you share a joy with others, the joy is doubled. When you help carry another's hurt or heartache, you lighten their load.
Besides their immediate value, small groups are like insurance. You invest in them so that when you hit the storms of life you have the support and friendships you need to weather the storm.
That is why we say groups are our system for member care. It would be impossible for me and our staff, however large our staff may grow, to provide all the support, the assistance, the attention, and the encouragement that all of you need from time to time which we very much want to make sure you have. But in a healthy church, the pastor, the associate pastor, the deacons, or the pastor's staff shouldn't be supplying you with that care. You should be doing that for one another. Love God, AND you neighbor. Small groups are our plan, our delivery system to make that happen. Through the years I have heard many stories from people who have benefited from the support of a small group.
The Lord is teaching us, we are to love him –engage him, and love others –engage them. Small groups are a great place to do just that. It's the very best way to live.
Those are all of the things we want you to know today.
This is what we would like for you to do.
For Advent we are beginning a beautiful parish wide small group experience called Rejoice! Finding Your Place in the Advent Story. These are biblical reflections throughout Advent to help you prepare your heart and soul for Christmas. We encourage you to get involved. As I said earlier, it is only a four week commitment. You just sign up and we will get you into a group. That's a great way to meet some new people. If you already have a group, let us know when you sign up.
If you're looking for new ways to connect with our parish community, joining a small group IS the way.
We are also looking for people to lead a small group. Do you have a group of friends that you'd like to put together? Let us know! Our team will provide you with all the content you need.
Lastly, if you're interested in opening your home to host a small group, there's a need for that as well. You do not need to be a leader to host, we can connect you with a small group leader. We'll also have space available here at Saint Mary each Wednesday evening from 6:30-8:00pm for small group meetings.
As I mentioned, we'll provide each group with the content they need to get started.
So sign up today! Either complete the card in your pew or visit our website at saintmary.life to get started.
So. . . please fill out the card in your pew and place it in the collection basket. OR
Go to saintmary.life and click Small Group Signup to submit your information online. It is actually much easier for us if you please sign up online. If you have your phone with you, please take it out and sign up. We will give you a couple of minutes to do that now.