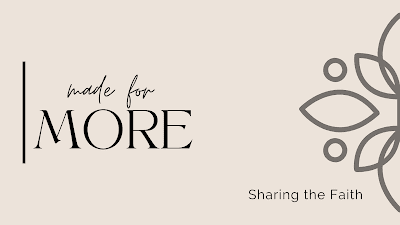 Made for More: Sharing the Gift, wk 5
Welcome to the final homily in our series titled Made for More. Over the last four weeks we have explored four different ways God has made us for more than a humdrum existence. We are made for more than what our culture teaches us we are made for. As a baptized daughter or son of God, Jesus calls you into following his way, which is much more significant than following the ways of the world. So far, we have discussed four ways in which you are made for more.
Four weeks ago we explored serving, not out of obligation, but to serve with love.
The following week we discovered that praying is not part of our relationship with God. Prayer, and its resultant action, IS our relationship with God.
Two weeks ago we demonstrated how the good Christian life involves engaging both God and others, and the best way to live is to experience that in a small church group. We have set that up for you with our Advent small group series called Rejoice! It is not too late to sign up for our Advent small groups. We encourage you to sign up. There are cards in the pews that say Rejoice on them. Just fill one out and put it in the offertory basket or go to our website https://saintmary.life and click on the Rejoice image. It is only a four week commitment. If you want to go deeper into your relationship with God, an Advent small group is the perfect opportunity to do just that, so please sign up.
Last week we showed you how you can be a conduit of God's grace by helping others financially. In particular we reminded you that if you put God first financially, God will bless your finances. That is because you are using your hard earned money to share God's generosity, to you, with others. You can experience God's blessing by filling out your next step card. The next step cards are also still in the pews. Just fill one out and drop it in the collection basket. Or go to https://saintmary.life/giving Thank you for your generosity and for putting God first in your life.
All righty, that is what we have discussed for the last four weeks. If you want to review any of those homilies, you can find them on our website.
Today, for this last homily in our made for more series, we are taking a look at sharing the gift. The gift you want to share is your gift of faith.
For four weeks we have been reminding you that you are made for more. You are made for eternal life! We must share this news of this great gift of eternal life with others because that is what Jesus tells us to do. And we want to share this gift because it is the most amazing thing we could ever share.
This is how to share the gift. The modern person is not willing to listen to a Catholic, merely because respect has been won, our credentials are up to date, or we have the right training. They will listen to us when they trust us. So, start with trust. Then move to intentional conversations about important things. That is how you invest in a relationship with others, building trust and engaging in conversation. Then people will more likely respond to your invitation to attend your small group or attend Mass once a person learns to trust you.
Sharing the gift of Jesus' good news is evangelization. However, take care not to treat other people as evangelization projects. Treat them as people you love. Because you love, you want to share God's good news with them, just like you want to share information about the great restaurant you just discovered with others or the way you want to tell everyone about the person you just fell in love with.
We have something both exciting and comforting to share. We Christians bring something to others that the world cannot bring. We help bring the saving message of Christ to a world that is broken and desperately in need of it. We bring hope to those hurting that they are not forgotten by God. We bring a message to all people that the violence and pain they see in the news, is not the way the world is supposed to be, and it is certainly not the end. All of us are made for more than that!
This is our only mission – to let others know that Jesus Christ died for us, though we are sinners, so that we could live forever with him. We want to let others know the following. Even in a world that is broken and suffering because of sin and death, we have the promise of eternal life. Jesus wins the victory! We work diligently to share this message. It is a message of God's love which we want to share out of love.
In times of darkness, we must remember that there is Light that overcomes the darkness. The gospel of John tells us Jesus, the Son of God, is the light. The light shines in the darkness, and the darkness has not overcome it.
Until the day Christ returns, we have a job to do. Even in a world broken, Christ brings life. Remember your call and mission this week – sin, suffering and death are not the end – the victory of Christ is the end. There is hope in that profound reality. This is the hope, this is the gift, we are privileged to share with others.
Listen to what today's biblical readings have to say about evangelization.
In our first reading, those who evangelize, are who the author refers to as the wise. He writes. "But the wise shall shine brightly like the splendor of the firmament, and those who lead the many to justice shall be like the stars forever."
Leading many to justice refers to evangelization, for justice resides in the person of Jesus Christ. Those who evangelize will be like the stars forever. If you truly evangelize, you will be like stars forever. Does that appeal to you?
We sang in our response today "you are my inheritance O Lord." "You will show me the path to life, fullness of joy in your presence"
The Lord's path is full of joy, not without struggle, but full of joy, because we know where our journey ends if we are faithful to him. The Lord claims us as his own. He claims you as his inheritance.
Our inheritance with God is a reciprocal relationship. We understand inheritance as the practice of passing on property, titles, privileges and rights to designated heirs. If we inherit God through baptism, and living faithful to him, and inheritance is what one receives from another, then what legacy or endowment, could the Holy One ever be receiving from us? How about lives of intimacy with the divine? That is what you have to give God, a life of intimacy with him, a deepening kinship with the lover, God, who created you.
Don't you want to help others experience this life of intimacy with the divine and a deepening kinship with all those created by the same hand of our loving God? Then, out of love, share the gift of your faith with them.
This weekend our bishop, Bill Wack, has sent you a gift. It took him months to prepare it so that it would make him present to you, and make Jesus present to you. His gift is called "Sharing the Gift." It is his letter to you about sharing the gift, that is, sharing Jesus with the world. Essentially, bishop's letter to you is all about our parish vision, which is the vision of the universal church, sharing Jesus with the world. We will have more to say about bishop's letter to us over a few weeks.
This is what we would like you to do this week.
Be sure to pick up your copy of bishop's letter to you as you leave today, and please read it. You can read it in 15-20 minutes. That's all it will take. Talk to your family about it, and pray. Ask God how you can help share the gift.
Here are two ways to put bishop's letter into action. Think about Catholics who are not going to Mass who you can invite to Mass for Christmas. Start working on your relationship with them, building trust, and invite them. Or, think about a lost and lonely person you might invite into a small group for Advent, and invite them. Our Advent small groups start meeting in 2 weeks. Be sure to sign up yourself. Help others to experience the love, compassion, and promise of Jesus Christ. Share the gift. Share the gift Jesus has given you to share.