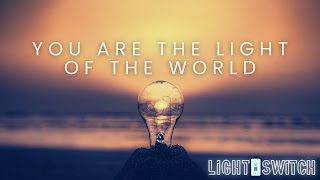 Light Switch Wk 2: You are the Light of the World!
This is the second week of our homily series we call Light Switch. It's about how you can flip on the light of Christ for others.
Last week we talked about Sharing the Light through living out the beatitudes, what we call kingdom living. This week we are looking at being the Light. That's because following the beatitudes, Jesus tells his disciples, "You are the light of the world … let your light shine before others, that they may see your good deeds and glorify your heavenly Father." So we are supposed to be the light because Jesus proclaimed us as the light!
The light we reflect is not our own but is of God.
Along these lines we have an interesting video sent to us by our bishop. It follows the life of a set of parents and their daughter named Sarah. In the video, as she grows, Sarah switches a few times from a blond to a brunette, but it's still Sarah.
One of the greatest gifts we can pass on to our children, like Sarah, and our grandchildren is our Catholic faith.
Furthermore, simple acts of kindness through time, talent and treasure can leave a lasting impression on Christians, and those of other faiths or of no faith at all. Our annual Catholic Sharing Appeal allows our diocese to evangelize and serve in many ways, thus being the light of the world for the Florida panhandle.
Indulge me for just a few minutes please, while I tell you another story about being the light. This story strikes my heart, especially as we close out Catholic Schools week.
Some decades ago, a college professor in Baltimore sent his students into the local slums to get case histories of 200 boys. He instructed his students to write an evaluation of each boy's likely future prospects. In every case, they wrote something like, "This boy does not have a chance to make it in life."
Twenty–five years later, another professor discovered that old study and decided to do a follow–up. Of the 200 boys, twenty had died or moved away. But of the remaining 180, all but four had achieved remarkable success. The professor was astonished, so he asked a further question: "How do you account for your success against such odds?"
In each case, the men replied with feeling, "You see", they said, "There was this teacher."
As it turned out, the old teacher was still alive and still alert, so the professor sought her out and asked what magic formula she had used to pull those boys out of the slums and into success. "It's really very simple," she said in her soft, old woman's voice. "I loved those boys. I just loved them."
That old teacher understood what Jesus was talking about when he told us we are the Light of the world and that we need to be light for one another. She carried her light into the middle of that slum and she let it shine. She reflected the light of Jesus as she brought there the light of her goodness, and it kept those boys from rotting away amidst all the ugliness. She brought them the light of her zest for life, and it gave them a taste of a better life.
What if she hadn't been there? What if she'd let her light burn low or not shared it? What would have happened to those boys? Almost certainly that original evaluation would have been right: They would not have had a chance.
And so it is with us. The light that we're called to be for one another is not replaceable. At this very moment, we are the designated bearers of light for specific people; and in ways we may not even imagine, we can change their lives, and even save their lives.
The primary way we demonstrate our love, our light, is by sharing the gifts God has given us with his people. That's how we are the light of the world, and that's how we share the Lord's light.
I am asking you today to plan how to let God's light shine through you, by sharing the financial gifts he has given you with others through our annual Catholic Sharing Appeal. I am asking you to plan how you will give for CSA this year. If we don't plan and share, our light dims, because then our gifts are not used for God's purposes.
This week we all will receive a letter from our bishop and a CSA pledge card in the mail from our bishop. That pledge card gives us the great opportunity to share what God has given us with his people. I ask every one of us through CSA to be light for others.
Do you know what percentage of your Gross income you give back to the Lord? You might want to figure that out. We recommend 5% of our gross income to the parish offertory, 1% to CSA, 4% to charities of your choice. CSA reaches out to thousands of people in our area. Every year the church plans how it will help and thus be light for all those people. So I ask you to do the same. Plan your giving, give your plan, and be light. CSA is a beautiful way to light the world.
You can wait for your mailer and respond that way. You can go online and give that way. That's what I do, or if you are visiting and would like to help, that's wonderful. We have envelopes at the end of each pew.
Such power we have to bring gifts of light and life to others—indispensable, irreplaceable power, here in our hands! Let's not waste it or let it slip away. You are the light of the world, Let us be light. Let us be light for others.
Thank you for your continued support of CSA. If you have not yet made a commitment, please consider doing so now. It's so easy. I'll sit and be quiet for a few moments if you would like to do this on your phone right now.
If you are reading this online, here is a direct link to give to our Catholic Sharing Appeal: https://secure.myvanco.com/L-Z8PJ/campaign/C-13CBC
Thank you for your Generosity! Let's be light!