The Mass schedule for Christmas this year will be as follows:
Saturday, December 24th at 5:00pm in church, and at 5:15pm in PLC gym.
Saturday, December 24th will be Midnight Mass in church.
Sunday, December 25th, Christmas 10:00am Mass in the church.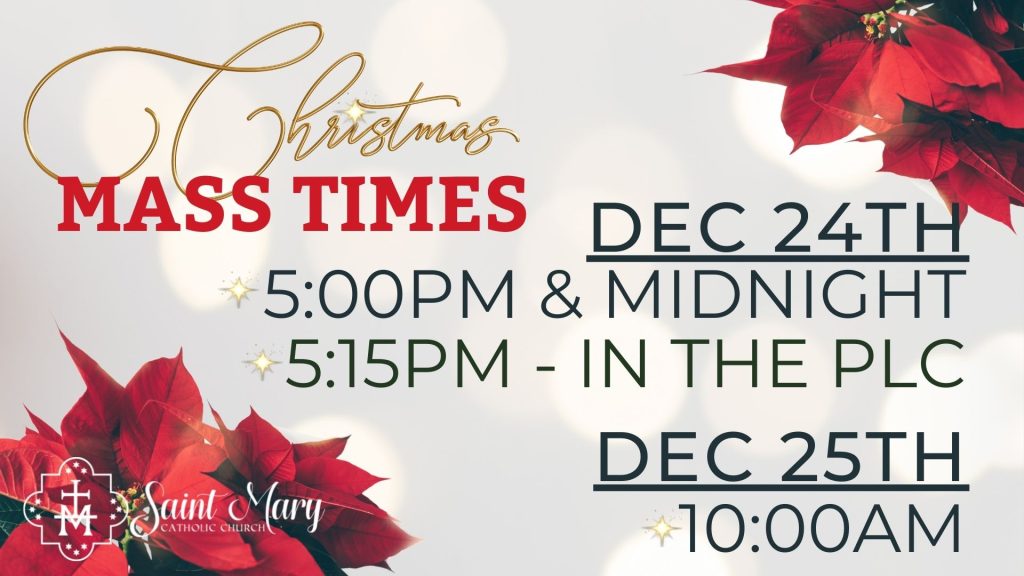 What are the details?
Christmas Eve: 5:00pm Mass will be in the church, and 5:15pm will be in the PLC Gym. We will have beautiful music both in the church and in the gym. We will also have music before both of these Masses beginning at 4:30 in the church and 4:45pm in the gym.
Midnight Mass is at midnight in the Church only. Christmas Carols will start in church at 11:30pm before Midnight Mass.
10:00am Mass on Christmas day is in the Church only. This is the only Mass time we will have on Christmas day.
There will not be confession on Saturday, December 24th.
Advent Special Events
Advent Adventure, daily emails of free activities for K-5th graders during Advent.
December 4th after 8:00am & 10:00am Masses, Breakfast with Santa in the PLC sponsored by Saint Mary School PTO.
December 4th 6:00pm, Advent Encounter for Youth Ministry Families in the PLC.
December 11th 6:30pm, Free Advent Concert with Sarah Kroger at Saint Mary Catholic Church.
December 13th 6:00pm in the church Parish Advent Confession Service.