Bell of Saint Mary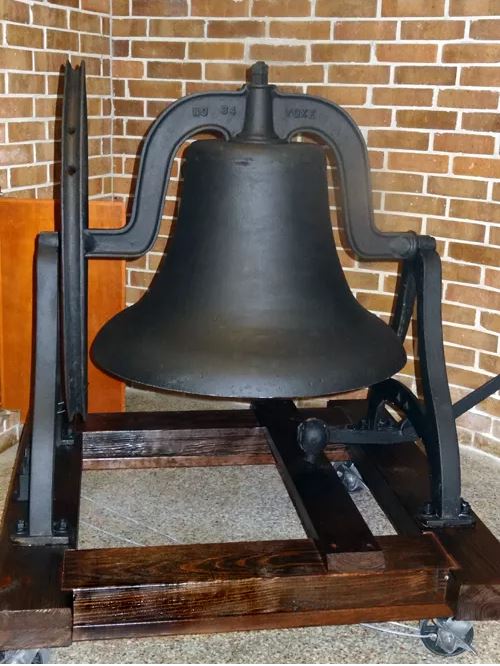 On October 13, 1914, the area's first St. Mary Church, named after the Gerlach family's home parish in Crown Point, Indiana, was dedicated by the Most Reverend Edward P. Allen, Bishop of Mobile.  Father August Beyne served as the first pastor.
 
It was a white frame, rectangular building with a bell tower and seated 50 people.  The bell for the tower was donated by the people of the Crown Point church.  Blessed at the start with members made up mostly of Gerlachs and Staffs, the church choir sang regularly at Mass from 1914 to 1940, and the bell called people to worship and to pause in their daily tasks to say the Angelus.  Margaret Woodward, the church's first convert and historian of the early church said of the bell she heard so often,  "All the town loved Father Beyne's Angelus; every morning, noon and evening when the Angelus would ring they would say, ' There goes Father Beyne's bell.' "
 
When the second St. Mary Church was constructed in 1942, there was no bell tower, and the bell was stored in the attic of the red brick church, only to be rediscovered when the church was being renovated for use by Catholic Charities Food Bank.  The bell was moved to the workshop behind the Parish Life Center, where Rob Henry and Deacon Wayne Walker researched its origin and learned how to restore it to its original condition.
 
The bell was made by the C. S. Bell Co., of Hillsboro, Ohio, and is what is known as a "steel alloy bell."    Bells are numbered by their diameter in inches.  Church bells made by the company varied from 30 inches to 54 inches.  Our St. Mary bell measures 34 inches and weighs 487 pounds. The weight of the bell and mountings is 765 pounds.
 
After the bell was restored, parishioner Pete Wagner crafted the stand to be used while the bell is on display during our Centennial year.  Others that helped in the bell restoration were Father Will Ganci, Lynn Nolla, and Pat Demski.
 
On Thursday, February 6, 2014, Father John Licari spoke to the assembled Saint Mary School students during mass, explaining the history of the bell and its significance, and at the end of mass, rang the bell 10 times – one ring for every decade of its time here at St. Mary's. And the walls of the church magnified the joyful sound.
---
Hurricane Ivan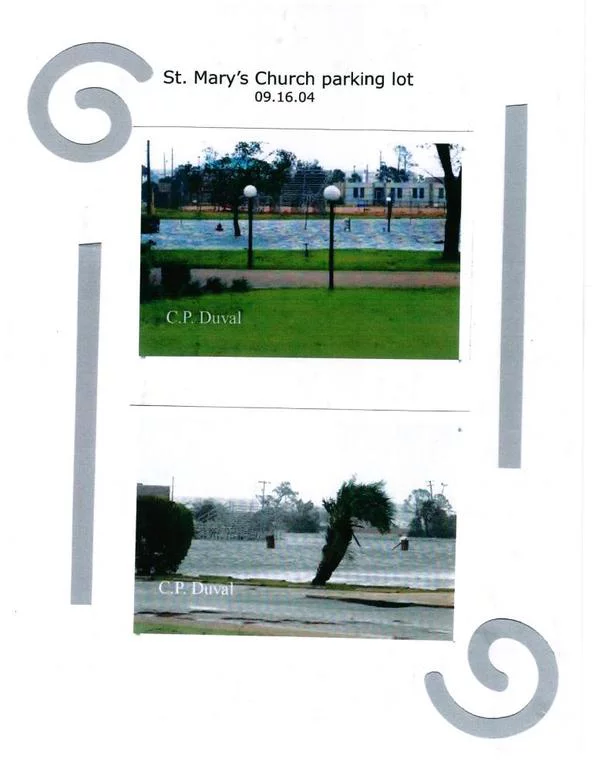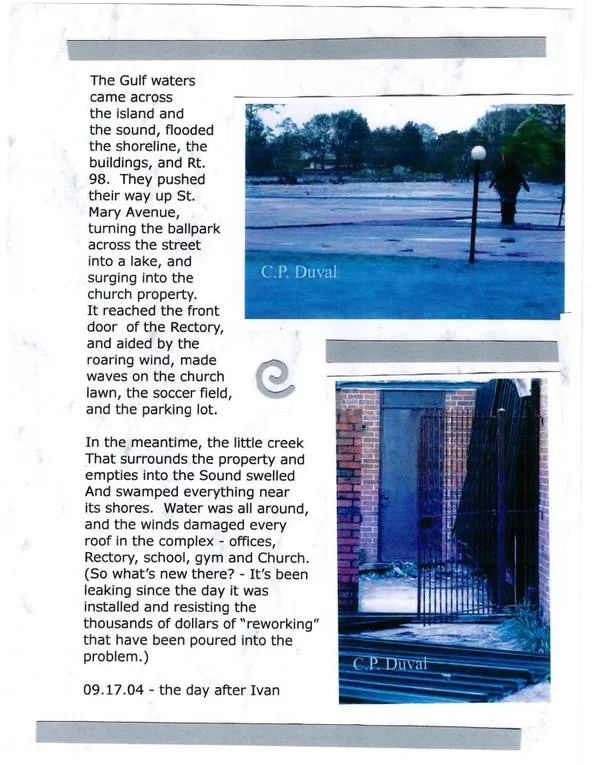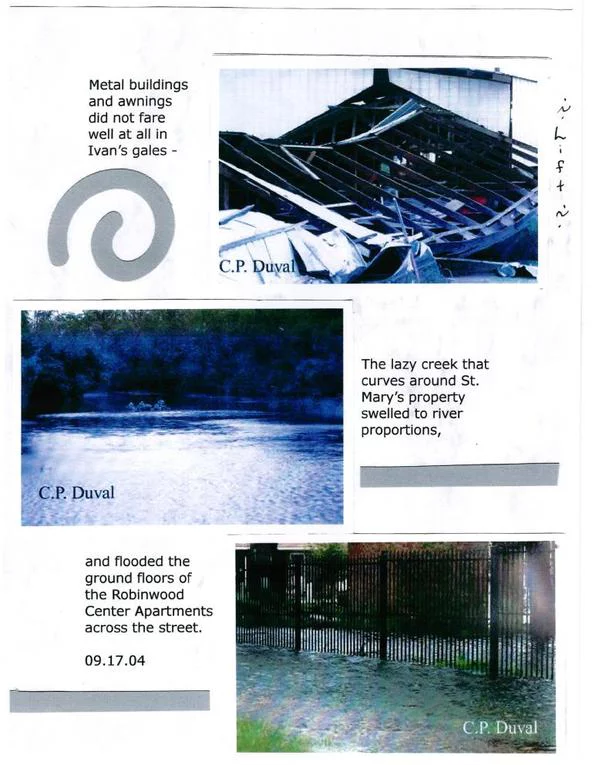 ---
The Day The Sisters Came
In 1945, with the village of Fort Walton now town-size and Eglin Air Force Base expanding rapidly, permission was granted to build a Catholic elementary school for the children of Fort Walton and Eglin Field. A two room school and convent were constructed in what was to become a complex of Saint Mary's buildings on First Street.
August 1946 – The first Dominican Sisters of Adrian, Michigan arrived in Fort Walton.
Mrs. Cathy (Cissy Bass) Wyninegar remembers waiting for the Sisters to arrive.  In a paper written for the history of Saint Mary School, titled "The Dominican Sisters at St. Mary's School", she wrote:
"First one that sees 'em wins," Helen Jo said.  "And no fair goin' down to the corner.  We all have to play fair," said Velma.

So there we all sat . . . on the sandy rise beside the oyster shell road in front of the newly built convent.  The convent was for the Dominican Sisters who would soon open the new Catholic school in Fort Walton.  Aunt Jo had gone to the train station in Flomaton, Alabama to meet the Sisters and bring them back to this rural Florida town.

"I see 'em!  I see 'em!  There's Aunt Jo's car!  They are coming!" yelled Helen Jo.  

An absolute hush fell over the group of six cousins waiting to finally lay eyes on a real Catholic nun.  We had only seen nuns once when we had gone to Pensacola for our music lessons.

There were no pictures of a real nun, only stories from our great aunts.  We had no idea of what we were going to see except we knew it was a real lady person dressed up in a lot of clothes – and her hair could not show.  And she was HOLY!
All we knew was, the Sisters were going to teach us everything and that they would not put up with any foolishness.   

Our eyes were on the end of the shell road, where we could see the paved highway.  Makin' a wide, graceful turn was Aunt Jo's 1945 Oldsmobile.  That car was absolutely beautiful.  Aunt Jo drove the best car in town – it was a two-tone, four-door with running boards.

Aunt Jo headed toward us.  Then the car glided to a stop.  Sittin' inside that huge car was Aunt Jo and four individuals completely covered in white and black.  Every part of their body was covered except their faces and their hands!
We had never seen that much material at one time, especially on one person!  They had a topping on their heads that looked a little like a helmet and kinda like a box.  The helmet/box was made so there was black on the outside and white on the inside.  Their heads were wrapped up like a mummy . . . except for their faces.
No one said a word.  Our eyes were fixed on the newly arrived guests.  Within the silence that fell on the cousins, was the fact that we all knew that things were definitely going to be different.
Each of the Sisters was wearing at least 35 layers of white wool.  We didn't really know much about fabrics, but we knew that it looked like our winter coats which were made from scratchy material
As the Sisters got out of the car we could see that the black on the helmet/box went all the way to the ground.  The white "uniform" had a long drape in the front and in the back.
Around the waist was the longest rosary we had ever seen.
As they stepped out of the car, we could see they were wearing black stockings and black shoes.  Yep, things were definitely going to be a lot different.  Father Sherman, our pastor, had told us all about the Sisters and what they would be teaching us.  He also told us that we would not be allowed to go to church barefooted anymore and for sure we would have to wear our shoes to school.
Speaking of shoes, we each had the only pair.  Mostly they were hand-me-downs from older cousins.  It didn't matter if they fit or not, you wore them if you had to.
Now that the War was over, it was easier to get shoes.  Mama ordered our shoes for school from the J.C. Penny catalog. She traced our foot on a piece of paper that she included with the order form.  I remember something about having to save our tokens to have enough to order certain things and Mama had made sure we were going to have shoes for school.
Back to the Sisters.
As we looked them in the face, you could see beads of sweat on what little of their foreheads was showing and on their upper lips.  It was hot . . . real hot.  Probably about 100 degrees in the shade – and we were standing in the broiling sun.
'Bout that time, one of the Sisters reached up in the cuff of her long sleeve and pulled out a handkerchief.  (We soon learned that Sisters could pull just about anything out of that sleeve!)  She delicately dabbed at her top lip and forehead.
"Come up here and show your manners," my oldest cousin Velma said.  Martha Jo said, "Gosh, I'm afraid."  Velma said, "Hush."   We all just stood there spellbound.  The six of us – my sister, my brother, my three cousins and me.
We'd been waiting all summer for the day the Dominican Sisters from Michigan would arrive in Fort Walton to open up St. Mary School for the 1946-1947 school year.
My dad, Docie Bass, had built the school and convent on land that my grandparents had given to the church for a school.  Nearly everyone in town had worked to finish the new school and get everything ready for the Sisters.  The laborers working on the convent school had hand-made just about everything because of the War.
My Dad could build anything.  He was the head man, and he was in charge of everything.  We had all watched the construction from the very beginning and had played right alongside the workers.  After the work was done for the day, we would play for hours doing the things we had seen the workers do.
Anyway, the greeting party of six did not say a word.  Never had we seen anything like what had stepped out of Aunt Jo's car.
We met Sister Marie Delores, Sister Cabrini, Sister Ann Romaine, and Sister Eucharia.  And they opened their arms, covered in white flowing heavy layers of wood . . . and hugged us.
Lots of things about that day and the many days that followed would stick in my memory.  Those wonderful women, buried under 20 pounds of soft wool, never complained about anything.  They hugged us when we needed it, and they corrected us when we needed it.
That was 67 years ago.  Before cars were air-conditioned.  Before home air conditioning.  They were so modest and cloistered.  We lived across the street from the convent and never in all of those hot, scorching nights was there ever a window open that was not fully draped.  They just took on the heat as part of their lives.
That hot August day back in 1946 was the beginning of a wonderful era in rural Northwest Florida.  Early settlements in Pensacola and St. Augustine had brought the Catholic Missionaries and mission churches across the northern part of Florida.  With most of the settlers in Okaloosa County being Protestant, the Sisters were truly a statement!
Most of us remember the Sisters as stern and strict.  That they were!!!  I have to add though, that what I really remember was that they never complained or stopped working, teaching, singing, and praying.  They always had time for our millions of questions even though they kept their lives private.  They taught us how to read and write.  Good penmanship and correct spelling were signs of an educated person.  They taught us how to conjugate verbs, the difference between regular and irregular verbs, not to mention pronouns, prepositions, Gregorian Chant and love of the Lord.  They taught us respect, responsibility, and character.  They taught us to sing in Latin.  They taught us to love for one another, our parents, and our friends.  They taught us honesty, humbleness, and gentleness.  They taught us to be generous and always to share and take care of those who needed our help.  They taught us to be leaders but never to boast or brag.
Those wonderful women of the Church influenced our lives. How lucky we were to have parents and grandparents who valued their religion and saw the necessity of raising us with a Catholic education. I can't help but wonder if the Church really knows the important part these women played in our lives. Those memorable days are gone forever the wonderful, sincere, and fulfilling influence of those "Saints on Earth", will never again be duplicated.
On September 11, 1946, the school was opened with an enrollment of 57 students. Mother Mary Gerald, Sister Marie Dolores, and Sister Madelene Sophie were present and supervised the whole operation. Some month later, another teacher, Sister Frances Louise arrived.
---
Dominican Sisters